Headless CMS and Headless Commerce Statistics in 2023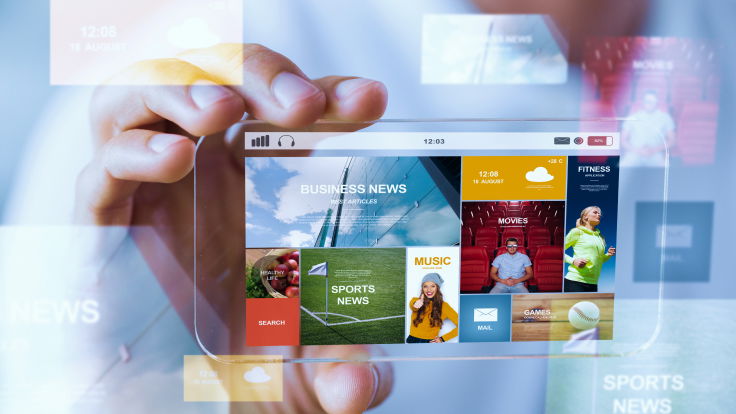 What's Inside
Headless CMS Software Market Outlook (2022-2032)
CMS Market Growth Predictions
Headless CMS Usage and Demands Including Region-wise Analysis
Headless CMS Statistics 2023
Technology and Development Statistics in Headless CMS
Headless Commerce statistics that you need to know
Why are startups turning to headless CMS Software?
Why are ecommerce businesses turning towards headless CMS Software
Some more headless CMS & Commerce related interesting stats
Conclusion
Key Takeaways
The Headless CMS market is predicted to touch USD 3.8 billion in 2032.
The e-commerce business is already expanding around 16 percent CAGR and is predicted to reach $1 trillion from a value of $539 billion before 2030.
The headless CMS software market is expected to grow at a 22.1% CAGR through 2032.
Digital leaders intend to spend 25% more on digital experiences including Headless CMS in the coming year.
As the epicenter of digital change, the USA happens to have the largest market share of 21.5% in the headless CMS software market.
The increasing number of mid and large-scale IT organizations in the United States and Canada contributes to being the industry's leadership in headless CMS software.
Headless CMS is outnumbering every known technology in the race of providing best-in-class customer satisfaction and digital experience.
Headless CMS happens to be a dream ticket to a world of delighted consumers. With customer experience centric approach, Headless CMS offers an unparalleled consistency that futureproofs your Tech Stack.
Many enterprises are migrating towards it to have easy to update, fast loading and highly secure content management systems.
Thanks to the API integrations that Headless CMSs offer, content delivery no longer seeks manual involvement and still remains consistent on all channels.
Headless CMS indeed makes a huge impact on every industry it touches. Which Is proven in the facts and figures of Headless CMS Statistics and not to forget Headless Commerce Statistics too. Many companies realized this way earlier than others and adopted Headless CMS for digital content.
They forecasted the rise and impact of technologies such as Cloud Computing, AI & ML and Chatbots in the Headless CMS industry. Further, they were aware that surge in voice activation search, use of smart devices and IoT will greatly impact ways of managing the content.
This helped them make more informed decisions. However, with the ever so changing tech industry, the room of thought keeps getting filled with a lot of questions. One such question is "what future holds for "Headless CMS" and its following category "Headless Commerce businesses".
To know where Headless CMS is heading, with some interestingly new facts, figures, trends, market predictions and latest Headless CMS statistics keep reading this article!
We have also included Headless Commerce Statistics in this to keep you sorted. If you read this, you don't need to look for anything else
Headless CMS Software Market Outlook (2022-2032)
The Headless CMS market was worth USD 605 million in 2022 however, it is now predicted to touch USD 3.8 billion in 2032.
Respondents in a study of Headless CMS Market analysis were asked to discuss the benefits they experienced after migrating to headless solutions or incorporating them into the broader technological architecture. Here's what they had to say: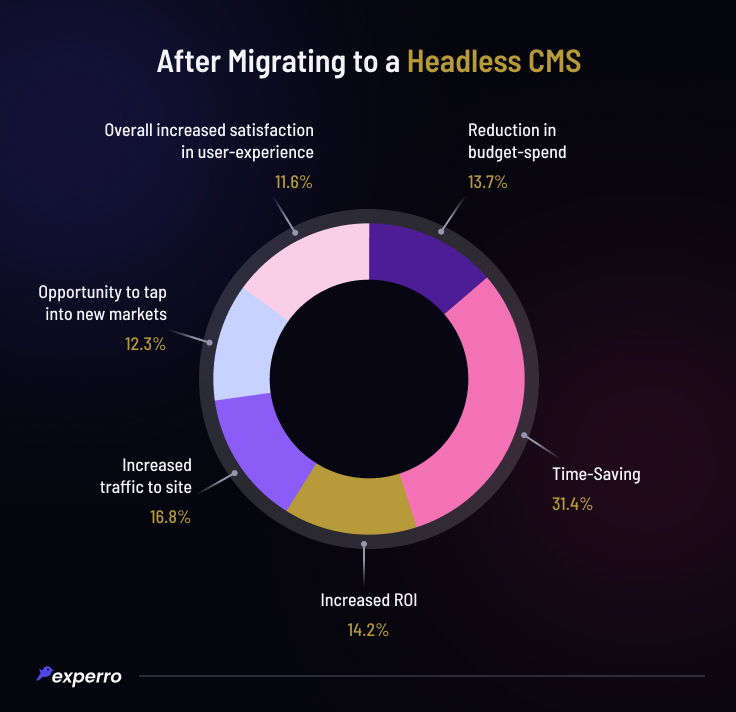 Another poll indicates that the API-first strategy (the cornerstone of headless) assists businesses in implementing new ideas into their operations where:
54% of firms that use APIs report greater productivity.
While another report depicts that APIs enabled 47% of firms to become more creative.
CMS Market Growth Predictions
We also saw the following trends in the CMS market that predicts Headless CMS Market size will only increase:
The market is expected to increase at a CAGR of 22.6% between 2020 and 2027.
Content management system providers of the CMS industry occupy less than 1% of the market share currently. This means that alternative solutions have a lot of space to expand.
Headless CMS software market is predicted to grow to a minimum of US $ 5,528.5 by 2032.
Additionally, over one-third, or 33%+, of the marketing budget is spent only on technology.
The global CMS market had a value at around USD $62.4 billion in 2020 and is expected to increase at a compound annual growth rate (CAGR) of 13.3% by 2025.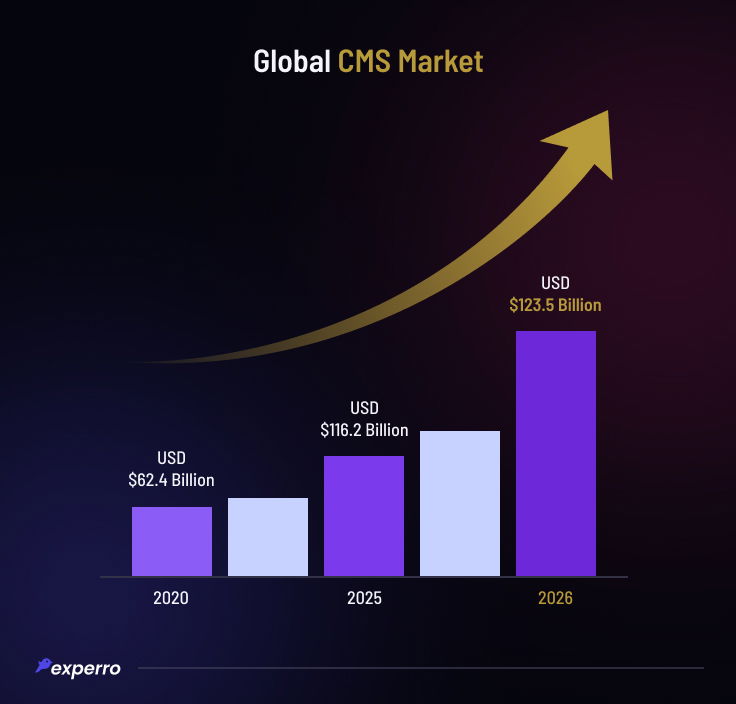 It is also predicted to earn around $123.5 billion by 2026, representing a Compound Annual Growth Rate (CAGR) of roughly 17%.
Headless CMS Usage and Demands Including Region-wise Analysis
Let's discuss about the usage and demands of headless CMS in various parts of the world including the websites that are currently using it:
Headless CMS usage in the world
Headless CMS consumers are quite delighted with the services this technology provides, which is prominent enough in the survey where a surge of 45% is seen in its usage over the past year.
Over one-third, i.e., 33% of growth in usage of Headless CMS, is predicted to come from North America itself.
Region-wise analysis of the Headless CMS and websites using it
There is an increased demand for Headless CMS across different countries which is shown in Table and Map.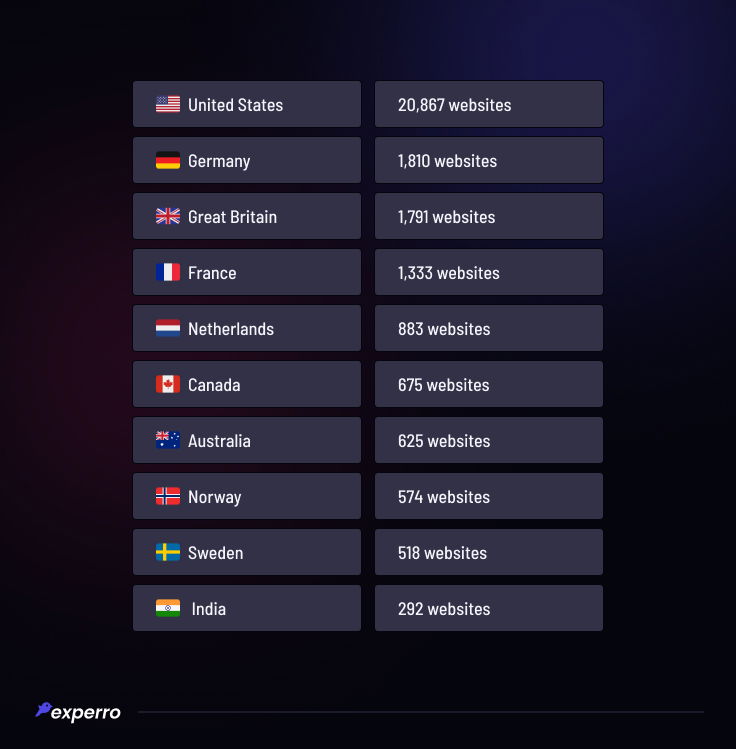 Headless CMS Statistics 2023
The headless CMS has faced a lot of criticism though the numbers reveal where it stands currently amongst different CMSs, Enterprises and more...
Position of Headless CMS amongst different types of content management systems
Currently Headless CMSs in different types of CMSs stands on second position in adoption of its technology by people. But the numbers are continuously rising.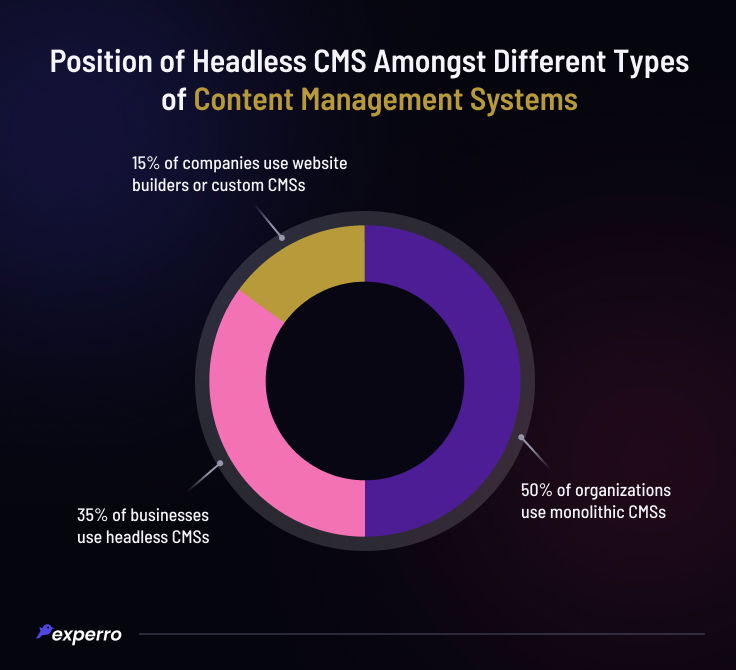 Enterprises that are leading the Headless CMS market
Large enterprises including 500-999 employees have cut a share of 24.2% proving to be the dominant one in the market. Limited implementation among SMEs which is due to added hurdles and expenses stifles market growth. Further government measures to establish expanded cloud infrastructure drive demand for cloud-based solutions, particularly among SMEs.

The growing number of colleges, institutions, and medical laboratories boosts demand for headless CMS software among market SMEs. Furthermore, as digitization increases, some SMEs are shifting their attention to online presence, bolstering headless CMS software market key trends and opportunities.


Focus on security concern becomes dominating headless CMS solution segment
In 2021, headless CMS software had a market share of more than 71.2%. This is because in all industrialized countries, headless CMS software is more popular than on-premises software. This is because it is cost-friendly and has a solid network infrastructure.



Furthermore, the headless CMS software market is focused on security concerns in order to eliminate the chance of cyber-attacks.

This aspect is driving the growth of the headless CMS software market by creating a high demand for headless CMS software among end users. A user must consider the timeframe, technical limits, security regulations, past technological investments, and vendor selections when deciding on the deployment strategy of headless CMS software.
Technology and Development Statistics in Headless CMS
AI already generates more than 20% of business content in this country.

By the end of 2023, as per voice-based internet purchasing statistics, it is predicted to surpass $40 billion. 43% of people use voice to purchase online.
More than 95% of purchasing will be done online, according to Nasdaq's online shopping and E commerce figures.
Headless CMS usage distribution by website popularity
Let's see the usage distribution of headless CMS as per website popularity all around the world!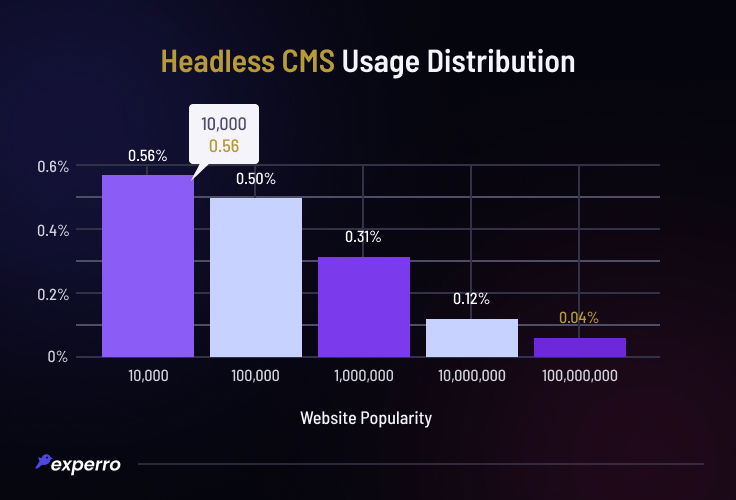 Popular Technology Stack Statistics in Headless CMS
As per Stack Overflow report, JavaScript was the most popular JamStack programming language for the past eight years in a row until 2020.
Although, TypeScript is becoming popular.
As seen in the JamStack Community Survey 2021, TypeScript is the most popular headless language. Moreover, it is growing in popularity –and its usage increased from 46% to 60% in one year and it is now a primary language for 15% of Jamstack developers.
Data source: Stack overflow
Websites Using Headless CMS
Here is a list of some websites that currently use Headless CMS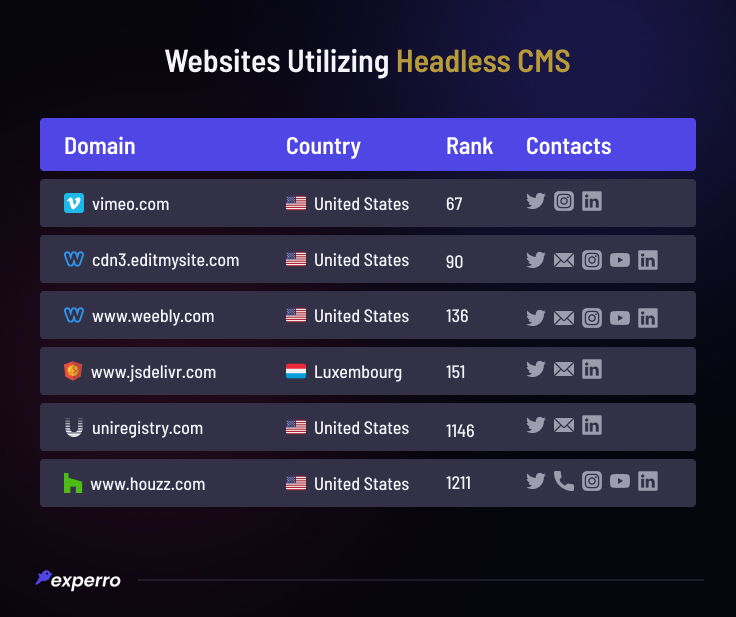 WCMS industry insights
Let us have our eyes on Web Content Management System market that includes the content analytics, Digital Asset Management (DAM) and editing tools.
The WCMS industry scored $4.8 Billion in 2017 and grew up to USD $6.9 Billion in 2021. It is now anticipated that WCMS will keep growing at a Compound Annual Growth Rate (CAGR) of 15.7% percent and will touch USD $14.3 Billion by 2026.
Web Engagement Management (WEM) makes up the largest portion of the fastest growing Content management systems industry.
The three main players responsible for growth of the CMS industry all over are:
Customer's demand omnichannel experiences.
Ever growing digital retail sector.
Increased number of digital marketing solutions.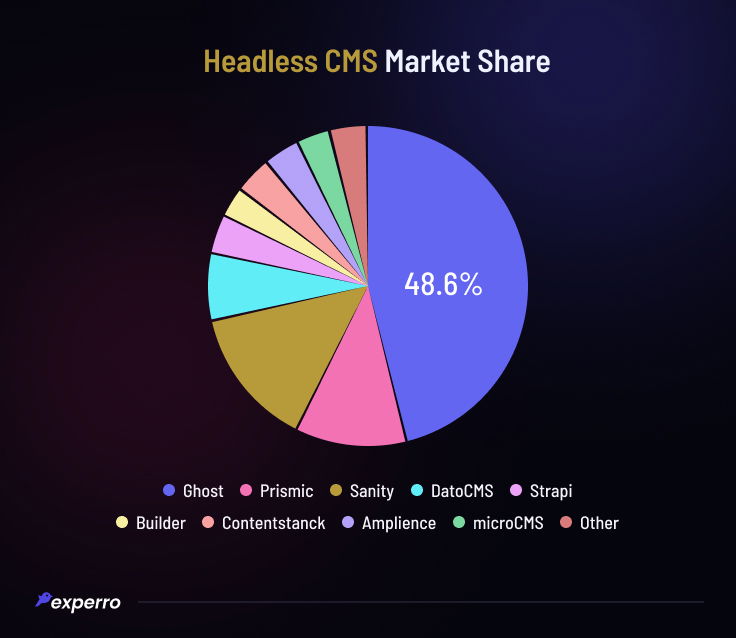 Development demand in the headless CMS that beats traditional CMS
Here are some headless CMS development statistics that show the demand and development:
52% of respondents believe that using headless architecture would improve website performance.
51% of respondents want to use headless technology to power their eCommerce shops.
47% of respondents want to connect to and manage IoT devices using a headless solution.
40% of respondents want to adopt headless for PWAs and wanted a consistent user experience across devices. So, these are all the statistics.
Headless CMS Meeting Customer Expectation statistics
According to a survey, respondents agreed for the following headless CMS Meeting customer expectation:
More than one-eight people feel headless CMS is profitable for them. While, two in third of the people that is 66% in total using Headless CMS love it for what it offers.
35% of marketers felt a better difference in user experience after switching to Headless CMS and 43% felt they rely less on IT now.
Digital experiences are directly linked to increased revenue in Headless CMS
According to a poll, 82% of users believe that digital experiences directly correlate to greater revenue – yet 76% believe they lack the resources necessary to produce consistent content across platforms, which 75% of customers want.
Build time is the biggest reason to adopt headless CMS
89% of participants reported that they find build time as their biggest enemy. This clearly helps Headless CMS Statistics to rise as more businesses are expected to shift towards it. Headless CMSs are easier to build in comparison to the Traditional CMSs.
Source for above mentioned statistics
Headless Commerce statistics that you need to know
Headless commerce bags US $1.6 billion funds in comparison to traditional CMS.
Digital leaders intend to spend 25% more on digital experiences in the coming year.
There is a significant discontentment with traditional CMSs; digital laggards are 40% more likely to use a traditional CMS. That means more than half will be in support of Headless CMS.
And, although 93% of those who polled said they needed to manage content across numerous digital products — 65% across multiple channels – more than half have been forced to use several CMSs to keep up.
This points out that there's a huge chance that they will drift towards the headless CMS.
Source for above mentioned statistics
Headless CMS usage statistics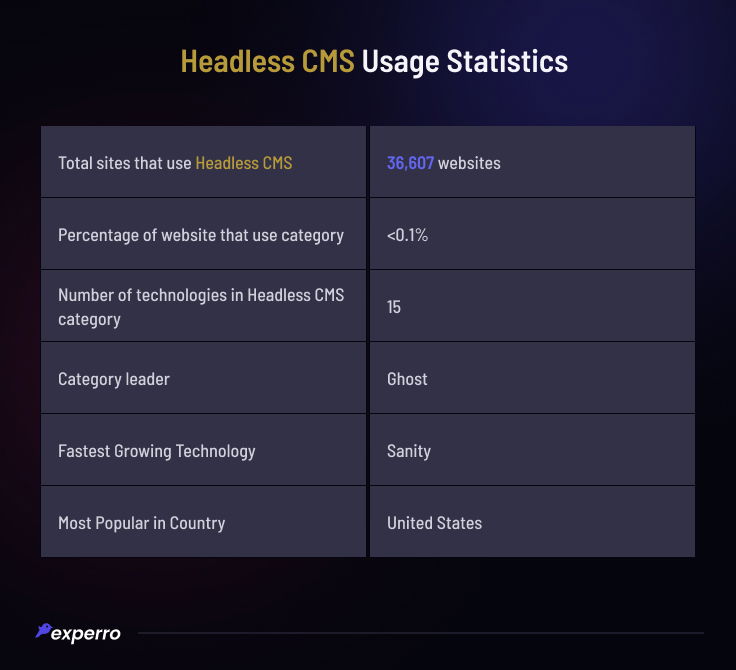 Not adopting emerging commerce solutions will negatively impact business
More than 90% of respondents who are not utilizing headless CMS right now, plan to examine headless solutions in the next 12 months. 74% of the organizations are firm that not adopting the emerging commerce solutions will negatively impact their revenue. Even they believe that changes in technology demand flexibility in decisions.
77% of organizations with Headless architecture say it enables faster changes to storefronts
Most of the organizations using Headless Architecture have claimed that headless architecture enables them to make faster changes to their storefronts. This is the biggest issue in the traditional CMSs.
Why are startups turning to headless CMS Software?
Startups are profoundly fed up with lethargic traditional CMSs and their challenges. They want to reduce their manual tasks and thus want a CMS that is automated. Where Headless CMS shine like a ray of hope. The below mentioned are some reasons to - Why you should switch to headless CMS software:
Switching to a headless CMS saved time, budget, and increased productivity, meeting KPIs, and revenue/growth for 82.91% of businesses.
Switching towards a headless CMS saved precisely 31.4% of firms time in content and project management.
90% of businesses are faced with the issue of translating their material into numerous languages.
Only 30% of firms, on the other hand, link their content management system with language service providers or translations management systems.
91% of people like to pick up where they left off when calling a customer care person, and 89% prefer not to repeat themselves.
Data source for above mentioned data.
Why are ecommerce businesses turning towards headless CMS Software
Half of worldwide eCommerce sales is now on marketplaces rather than storefronts, with 70% of Amazon searches excluding brand names entirely.
The IoT industry is anticipated to be worth 520 billion USD by this year, with 55% of US households owning a smart device.
Brands and retailers are searching for strategies to stay up as e commerce grows at a CAGR of 6.9% and is predicted to reach $3.5 trillion in market size by 2025.
Around 64% of enterprise firms now use the headless strategy, which rose roughly to 25% in 2019.
Almost half, i.e., 47.96% of those who polled use two or three different methods to manage their content:

- 38.25% of respondents said they only used one CMS. However, 47.96% indicated they use 2-3 CMSs, while 13.79% said they use four or more. People that use a single CMS for all of their purposes are thus in the minority. The most common rationale for adopting several CMSs was to reduce delivery risk, which was closely followed by the necessity for a new tech stack.

- Both of these worries indicate that these people are skeptical that a single system can provide the security or modern technology that they demand. Despite the obvious disadvantages of employing several content silos and the inherent complexity of juggling various tools, organizations appear to be ready to tolerate these drawbacks in order to achieve their fundamental CMS demands.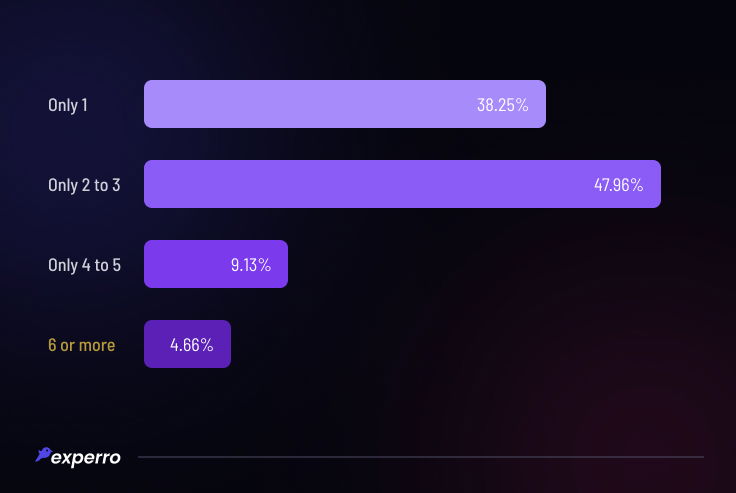 The top pain points and/or missing features that spurred transfer to other platforms were:
- Time-consuming processes
- Difficulties in mastering technology
- Security concerns
Every day, 20% of the employee's time is spent looking for misplaced files.
Headless enterprise organizations are meeting strategic goals, as evidenced by strong NPS scores and average investment.
- Net boosters of headless providers are 57% of CEO/owners.
- For excellent performance, 41% look to headless providers.
- The average cost of headless installation is $2.6 million.
Some more headless CMS & Commerce related interesting stats
Headless CMS is being adopted two times more than it was in 2018. You can see the predictions Headless CMS market 2018 that came true.
WordPress alone accounts for 65.2% of the Content Management System industry's market share.
Squarespace, WordPress's main competitor, consists of only 2.6% of the whole market share.
Conclusion
A headless CMS provides the most freedom and agility, however it actually relies on an organization's goals and resources. If genuinely omnichannel digital content delivery is required — and it almost always is these days — an API-first, headless CMS design provides a robust back-end repository that is capable of supporting an omnichannel customer experience.
We believe this article served its purpose to inform you about Headless CMS Statistics and Headless Commerce Statistics. In case you want to know more about the best Headless CMS you can hop on to link.
FAQs
What is CAGR of headless CMS software market?
What is the status of the USA in the headless CMS software market?
What is the market trend for headless CMS?
Which segment leads in headless CMS software market by deployment type?